pair

ed •
ARTPORT
2012
Shreveport Regional Airport
What's This All About?
Artport is the regional art exposition housed at the Shreveport Regional Airport. The only revolving publis art display located in an airport setting in America, Artport features artwork from over 100 local and regional artists. it offers residents and visitors to the Shreveport-Bossier City area an opportunity to view works of art by local professional and aspiring artists.
In October 1990, the Airport Beautification Committee challenged Artport to open the first showing in time to greet travelers to the Independence Bowl. It was a huge success. From it's simple beginnings, Artport has grown to impressive proportions. The "Up" 2007 show was the thirteenth installment and attracted an over 2,000-person crown opening night.
"More than just an art show, Artport exists for so many good reasons. To the artists, Artport is an opportunity to show and sell art, whether holding an aspiring or professional status. To the national and international traveler, Artport is a window into the high caliber of talent in our community, as well as the culture and ambiance of our world. To the locals, it is encouragement and pride in our hometown, and the reinforcement that the arts alive and well. To the airport, it part of an ongoing beatification project. And most importantly, it serves as a catalyst for artist to support the many philanthropic needs in our community. There's no better time than now to broaden the brush stroke and impact as much of the need in our community as possible," said Smith, Artport President.
Artport is made possible by Kalmbach Smith Meadows, Shreveport Regional Airport and generous donations to Artport from area businesses and individuals. The Artport staff extends special thanks to the numerous artists' sponsors, American Airlines, Dooley Creek Ranch, United Tile, Neil Johnson, Shreveport Regional Airport Security & Maintenance, Shreveport Regional Arts Council, and the Philadelphia Center.
Shreveport Regional Airport 2012-2-9
Marshall people Willa, Debbie & Diane
"The Life" 6" x 6" ceramic tile/oil paint - silent auction item
My entry: "A Pair of Alternate Interior Angles"
the evening becomes a blur!
Cindy Smith/ARTPORT Director with husband Bill
Fellow ARTPORT Artist & Friend - Curtis Graff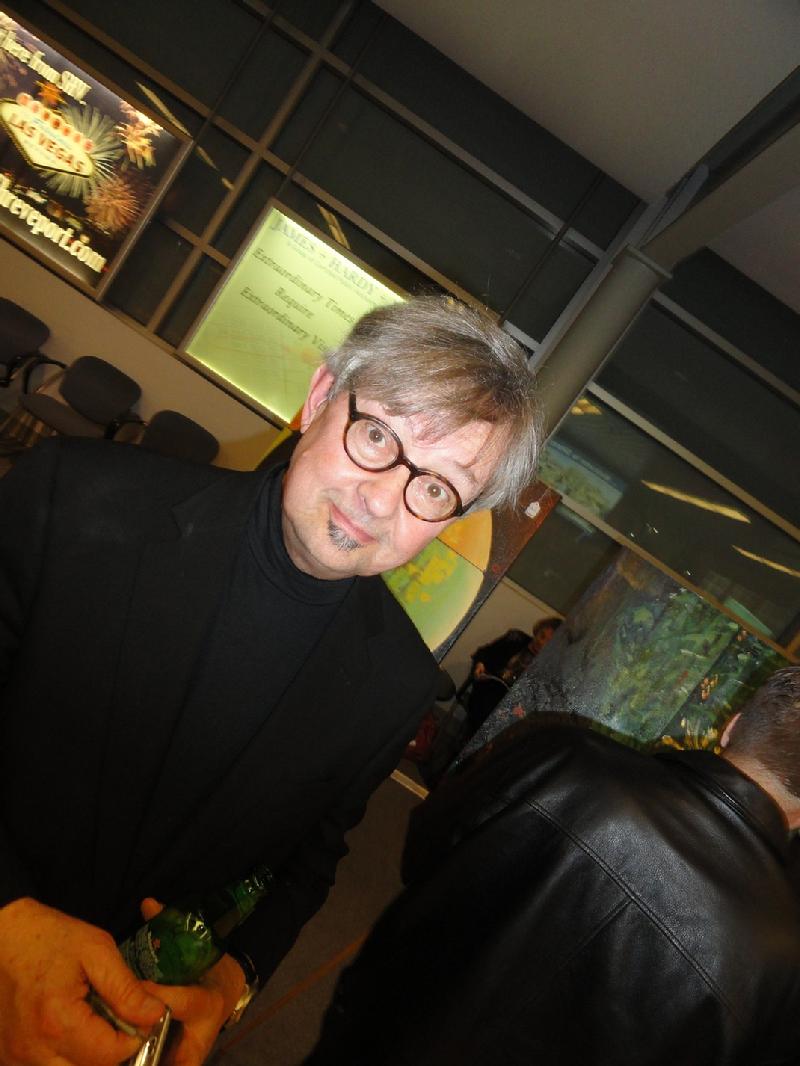 Shreveport Friend - Robert Trudeau
*Studio version with spacing and a Sharpie tied to the centerpoint to create the circumference
Pair of Alternate Interior Angles
Two 36" x 15" canvases with a 6" space in between to form a 36" square
*ARTPORT Gallery: click here
All content © Copyright 2000 - 2016 DENOART